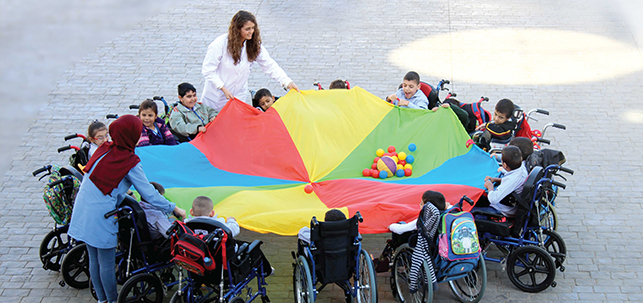 Occupational therapy
December 13, 2018
Occupational therapy
Occupational therapy helps people achieve an optimal level of independence in their daily life through exercises and therapeutic activities.
The therapist assesses the patient and intervenes accordingly to enhance or preserve his physical, cognitive, sensory, and social abilities.
Our Occupational therapist also works on patient rehabilitation and offers personalized solutions to improve his quality of life. This is done by providing technical aids and customizing the patient's environment so it becomes more adequate to his needs.
The sessions can either be held individually or in groups.
We strive to offer the best therapy to ameliorate:
Gross motor skills: static and dynamic balance, spatial body orientation.
Fine motor skills: Finger movement coordination, object manipulation, bilateral coordination.
Cognitive skills: attention, concentration and information storage.
Sensory skills: accepting new textures, body awareness, and stimulation of the 7 senses.
Writing and pre-writing skills: hand preference, pen handling.
Our therapist used to help people, of any age, who show one of the following symptoms:
Developmental psychomotor delay
Mental health or behavioral problems
Cerebral palsy
Genetic disorders
Traumatic injuries (brain or spinal cord)
Birth injuries or birth defects
ADHD
Sensory processing disorders
Learning disabilities
Autism/ pervasive developmental disorders
Our occupational therapists work closely with each patient, their healthcare team, family members and appropriate community resources. Generally, early intervention leads to the most effective outcome.
Occupational therapy requires a referral from a physician. To learn more about our services or to obtain a referral contact the Rehabilitation Services Department.